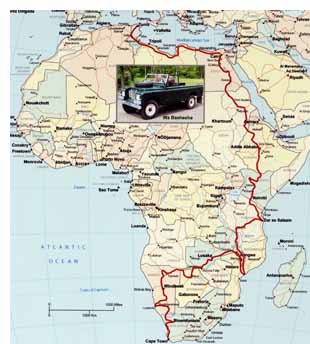 Early June 2006, after getting Wa Bashasha and her trailer out of the docks and after having all her papers duly stamped and signed, we will leave Cape Town (South-Africa) with well over 30.000 kms of Africa ahead of us. By the time our battered Series III Land-Rover climbs the narrow winding road to our cottage in Sibratsgfäll (Austria-Europe), it will be November. The mountains will be covered with the first snow and after the endless deserts of northern Africa we are probably glad to be back in the wintry Alps.

From Cape Town we have planned a month to get to Windhoek in Namibia, taking our time to meet people and visit some interesting places. In the Daan Viljoen National Park, not far away from Windhoek, we will wait for the arrival of our daughter Barbara, her husband Marc and their three children. All of them hardened in previous African adventures, they will not even wince when they are squeezed into Wa Bashasha's back. Luckily we have the trailer for their gear! Moving slowly but steadily towards Livingstone and the Victoria Falls together, we intend to explore Namibia and Botswana until the first week of August. Then we hit the Great Eastern Road in westerly direction to reach Lusaka in time to put everyone on the plane again. Paul and I stay for some additional days at Lechwe Lodge, not far away from Lusaka, and then continue our journey up north to Malawi. There we pick up our son Roald and our old-time Tanzanian friend Remigius before turning to the south-west and into Mozambique.

When we cross the Malawi-Mozambique border at Vila Nova da Fronteira on our way to Mutarara and Caia we truly drive back in our African past. In Caia we turn east to Lacerdonia, Chupanga, Marromeu and, finally, Luabo where we lived for almost 10 years and where two of our children were born. The last time we drove this road was late in the afternoon in the summer of 1974, shortly before we left Mozambique. Light was fading quickly, we were running low on petrol, the front was nearby and we were afraid to be ambushed by Frelimo freedom fighters or to hit one of their distasteful mines. This time, we trust, the journey to Luabo will be a peaceful one. Back in Malawi again, Roald will catch his plane back to Amsterdam and we will continue up north to Songeya in Tanzania. By then it will be early September and Remigius will still be on board.

Remigius was born in the Songeya area and many of his relatives and friends still live there. Some time will undoubtedly be spent in his home village before making it to Dar es Salaam. About the exact route we are not sure yet. Taking the main road will bring us to Dar in an extended day without much else to do than continuously avoid collision with oncoming lorries and busses. The coastal road will be back-breaking but interesting with a stop in Kilwa to admire the old mosque again. We will see when time comes. Once we have dropped Remigius at his home in Mbande, some 40 kms from the centre of Dar, it is another 80 kms to the Travellers Lodge in Bagamoyo. Here, about half way our journey, we will rest for a week or so, meet Dafrosa and her family, give Wa Bashasha a thorough check-up and a change of tyres and stock fresh supplies.

Then, somewhere in the third week of September, we are on the road again. First to Arusha and then to Nairobi. Here, for old times sake, we will spent two nights in the Fairview Hotel before passing through the magnificent Rift Valley on our way to Kisumu and Mumias to visit our Kenyan friends at Mumias Sugar Company. Two days there in the guest house and then on to Lake Turkana. Once back in Kisumu it is time to count our blessings and have Wa Bashasha checked again and repaired (if necessary). Main and auxiliary petrol tanks and jerry cans will be filled, giving us an action radius of some 1400 kms. Our food boxes full with durable supplies, we will say good bye to "our" Africa and head north towards the unknown and back home.
In Ethiopia and Sudan we intend to make long driving days until we pick up the Nile at Aswan in Egypt. From here, we resume our more leisurely pace and decide whether to drive from Cairo to Tripoli and Tunis, or to turn right and drive home through the Middle East, Turkey and Greece.

With the progress of time we can issue detailed route descriptions to those interested. At present, four of these are available (including camp sites, lodges, prices, workshops, petrol stations, etc). If you are interested in receiving more detailled information, you can contact us and refer to "detailed route information".