"Wa Bashasha" is our ex-MOD (Royal Dutch Navy Caribbean Command) 1975 Series III Land-rover 109" pick-up, 2.25 litres 4 cylinder petrol with oil cooler. Immediately after we bought her in April 2005, we transformed her into a hardtop with four side windows and a safari roof.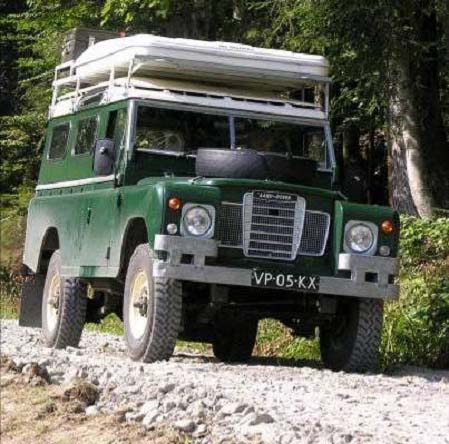 Since then we have been working on her mechanical and electrical restoration and fitted her for our Africa expedition. Now (November 2005) she is ready to roll. So far, we did not do any body restoration work, but looking at the photograph you will agree with us … even without, she aged with grace!
Driving her daily, and taking her up and down to Austria twice in the past couple of months, we have again grown fond of driving a Series III. Paul even begins to complain that he feels silly and bored in our Subaru Forester AWD: no flush of adrenaline when you have to make an emergency stop, no muscle work to avoid ploughing through the hedge along our drive and no anoraks and gloves required to keep half-way warm on a long autumn drive.